Jeremy E. Abay
Associate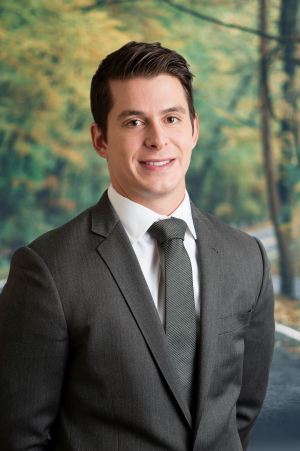 Mr. Jeremy E. Abay works on the firm's complex cases, concentrating his practice in healthcare fraud (qui tam), consumer class actions, and wage and hour litigation. He represents whistleblowers, employees, and consumers in high-stakes litigation against corporations, and he often collaborates with assistant attorney generals in prosecuting healthcare fraud.
Mr. Abay is licensed to practice in Pennsylvania, New York, and New Jersey. Federal court admissions include the Eastern District of Pennsylvania, Middle District of Pennsylvania, the District of New Jersey, and Court of Appeals for the Third Circuit.
Since joining the firm, Mr. Abay has returned to his law school alma mater, Rutgers School of Law, to serve as an adjunct professor in the deposition advocacy program and as a guest lecturer in the business torts seminar. He also speaks at professional seminars, including on the topic of how to classify workers in the gig economy.
Previous Experience
Prior to joining the firm, Mr. Abay worked for two Fortune 500 companies, Johnson & Johnson and Barclays Capital, where he gained unique insight into corporate compliance programs.
Mr. Abay graduated cum laude from Rutgers University in New Brunswick, New Jersey. He attended Rutgers School of Law in Camden, New Jersey as a merit-based scholarship recipient. During law school, he served as research assistant to former Dean Adam Scales, analyzing emerging trends in tort theory and insurance law. He received the Don F. D'Aqui Esquire Memorial Award at graduation, which is awarded to the law student achieving the highest average in and displaying the greatest aptitude for the law of torts.
Mr. Abay has been recognized as a Rising Star in class action litigation by Super Lawyers.
Notable Cases
Appellate Success
Jeremy in the News
"Novartis Must Face Retaliation Suit Over Kickback Scheme" - Law360
"'A Hundred Pages of Disputes': UberBLACK Drivers' Wage Class Action Gets Another Go-Round" - Law.com - Mar 3, 2020
"3rd Circ. Revives UberBlack Drivers' Bid For Employee Status" - Law 360 - Mar 3, 2020
"UberBlack Drivers' Classification Case Revived by 3rd Cir." - Bloomberg - Mar 3, 2020
"Taxi and Limo Drivers Meet with DA Regarding Ride-Sharing Services" - NBC 10 - Jun 7, 2019
"Company seeks payment of $77K arbitration award" – PennRecord - Apr 18, 2019
"UberBlack Drivers Ask 3rd Circ. To Revive Wage Suit" - Law 360 - Jan 15, 2019
"Philly Limo Drivers Defend OT Allegations Against Uber" - Law 360 - Nov 26, 2018
"2 kids were in 'irreversible shock' and dying when they finally got to the ER amid viral outbreak" - NJ.com - Nov 15, 2018
"Wanaque center gets millions in taxpayer funds to care for NJ's fragile children" - northjersey.com - Nov 14, 2018
"Philly UberBlack Drivers Press 3rd Circ. For Employee Status" - Law 360 - Oct 16, 2018
"Novartis Warping Kickback Standard In FCA Case, DOJ Says" - Law 360 - Sept 19, 2018
"UberBlack Drivers Fight For Employee Status At 3rd Circ." - Law 360 - Jul 26, 2018
"Order To Create Taxi Fee System Can't Stand, Pa. Court Says" - Law 360 - April 13, 2018
"Employee or independent contractor? Referees, strippers, land agents join the fight for labor rights" - Pittsburgh Post-Gazette - Mar 26, 2018
"Exotic Dancer Settles Wage Suit Against NJ Nightclub" - Law 360 - March 12, 2018
"Medicare Secondary Payer Compliance: The False Claims Act (FCA) for Providers (Part VI)" - The National Law Review - March 6, 2018
"UberBlack Drivers In 'On Call' Spat Say They're Employees" - Law 360 - February 27, 2018
"Progressive to Pay $2.4M in Medicare Secondary Payer Case" - Bloomberg Law - Nov 16, 2017
"Progressive To Settle Medicare FCA Suit For $2M" - Law 360 - November 14, 2017
"Two Insurance Companies Agree To Pay More Than $2 Million To Resolve False Claims Act Allegations" - The United States Attorney's Office District of New Jersey - November 14, 2017
"Can the court rescue Philly's cab industry from Uber and Lyft?" - The Inquirer - November 3, 2017
"With Uber and Lyft in Philly, taxi loans are underwater, like mortgages in 2008" - The Inquirer - September 22, 2017
"Pediatric Fraud Lawsuit Exposes Additional Medicare Liability" – Bloomberg Law - Sept. 20, 2017
"Pediatric Firm Can Pursue Federal, State False Claims Act Allegations, Judge Says" - Lexis Legal News - September 19, 2017
"Judge OKs Overtime Claims Against Uber, Tees Up Central Employment Issue" - The Legal Intelligencer - September 14, 2017
"Uber Can't Get Partial Win In Drivers' 'On Call' Fight" - Law 360 - September 13, 2017
"Dancer's Statutory Claim Against Club Not Subject to Arbitration" - New Jersey Law Journal - August 17, 2017
"3rd Circ. Revives Exotic Dancer's Wage Suit" - Law 360 - August 17, 2017
"3rd Circuit says exotic dancer not required to arbitrate wage claims" - Reuters - August 17, 2017
"Philly UberBlack Drivers Say 'On Call' Time Must Be Paid" - Law 360 - June 19, 2017
"NJ Class Action Revived Over Progressive's Auto Policies" - Law 360 - March 6, 2017
"Uber refunds drivers it overcharged as they join a union" - The Philadelphia Inquirer - March 3, 2017
"A look-ahead: Stories we'll be watching in 2016" - PhillyVoice - December 23, 2016
"Discovery Needed in Uber 'On Call' OT Fight, Judge Says" - Law 360 - Dec 15, 2016
"Uber Can't Escape Philadelphia Limo Driver FLSA Suit" - Law360 - Oct 16, 2016
"Employee vs. employer: The battle over arbitration" – The Philadelphia Inquirer - October 2, 2016
"Exotic Dancer Says Arbitration Not Applicable In Wage Suit" - Law 360 - Sept 28, 2016
"Uber Won't Get Arbitration For Philly Limo Driver Wage Suit" - Law 360 - July 22, 2016
"Drivers' Class Action Against Uber Over Wages Gets Green Light" - Law.com - July 21, 2016
"Philly's UberBlack Drivers Can Pursue Class Action Suit, Judge Rules" - Philadelphia Inquirer - July 21, 2016
"Your Online Insurance Sales Can Land You In Court" - Law 360 - May 5, 2016
"Local car dealer files lawsuit against Volkswagen" - 69 News WFMZ - May 30, 2016
"Insurers Refute Regulator's Argument That Stay Would Prejudice U.S., N.J. Governments" - Lexis Legal News - March 16, 2016
"Progressive Policy Tricks Consumers with Medicare, Suit Says" - Law 360 - Mar 15, 2016
"Compliance With Medicare Secondary Payer Act At Issue In Auto Insurance Case" - Class Actions Insider - March 9, 2016
"MSP + FCA = Big Trouble for Insurers as NJ Federal Court Allows False Claims Action Based on Medicare Secondary Payer Violation" - MedicareInsights.com - March 7, 2016
"New MSP False Claims Act Litigation: Did Progressive Ignore the Forest for the Trees?" - WorkersCompensation.com - March 7, 2016
"NJ District Court Permits False Claims Act Suit Against Progressive to Continue" - MedVal - March 2, 2016
"Philadelphia UberBlack Drivers File Wage Suit, Take Issue with UberX" - GovTech - January 7, 2016
"UberBlack drivers protest, file wage suit" - The Philadelphia Inquirer - January 7, 2016
"Philadelphia Uber Black Drivers Sue Over Independent Contractor Status" - BuzzFeed News - January 7, 2016
"Philly Uber Drivers Claim Wage Violations, Illegal Competition" - Law 360 - Jan 7, 2016
"UberBlack drivers in Philly file suit against Uber" - Philly Voice - January 07, 2016
"Uber Black Drivers File Lawsuit Against Uber Following Protest" - NBC 10 - Jan 6, 2016
"Philadelphia District Attorney Will Meet With Taxi, Uber Black Drivers Over UberX & Lyft" - NBC 10 - Dec 18, 2015
"Uber Black, Taxi Drivers Clog Center City To Protest Uber, Lyft" - CBS Philly -
December 16, 2015
"Noisy Taxi Cab Protest of UberX, Lyft Snarls Center City Traffic" - Philadelphia Magazine - Dec 16, 2015
"Cabbies shut down part of Center City for UberX protest" - Philly Voice - Dec 16, 2015
"Driving force behind bill: Uber" - Philly.com - December 16, 2015
"Brown-Daub leads dealers in false advertising claim against Volkswagen" - The Morning Call - Nov 11, 2015
"Ex-Stripper: 'Delilah's Paid Dancers Less Than Minimum Wage'" - Philadelphia Magazine - March 3, 2015
"Ex-Delilah's dancer joins suit over strip-club wages" - Philadelphia Magazine - March 3, 2015