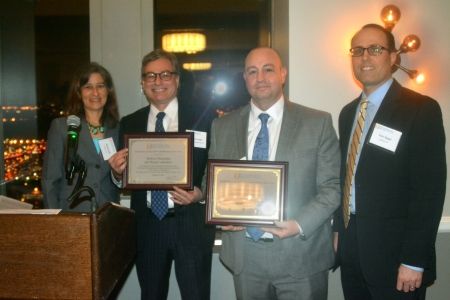 *This post was first published in 2015 and is continuously updated.
In September of 2015, the American Trade Association for Cannabis and Hemp (ATACH) made an announcement concerning their efforts to persuade the legislature in Pennsylvania to update the law to provide new legal protections for lawyers in the Keystone State working with the cannabis industry. The push came as the General Assembly is considering the legalization of medical marijuana, and it has the support of Andrew Sacks of Sacks Weston LLC, the only lawyer whom ATACH has selected to serve on the group's State Level Coalition.
Sacks was quoted in the organization's press release, saying that "lawyers representing cannabis businesses must be able to do so without fear of running afoul of the law or losing their license by representing members of the industry." With success, ATACH's – which was recently reformed into the Pennsylvania Cannabis Coalition (PCC) – effort to include legal protections for marijuana lawyers would open the door for members of the bar to counsel individuals and businesses in relation to Pennsylvania marijuana laws, such as with respect to operating a dispensary for medical marijuana. Without this protection, attorneys would tend to shy away from providing counsel or representation to businesses in the medical cannabis industry out of concerns for their professional reputation and license.
Support of the former-ATACH's legislative efforts is not the only example of the work that Sacks has been doing to assist with the legalization of medical marijuana in Pennsylvania. In no chronological order:
Andrew Sacks is a founding member of the PBA Medical Marijuana and Hemp Law Committee and is working to create a network of marijuana-positive legal advisors to press forward with medical marijuana law in Pennsylvania.
Andrew worked alongside eXPO™ Banking Solutions to bring the private financial institution to Pennsylvania, where it can serve underrepresented, underbanked, and overlooked cannabis industries in need of financial backing. The company is renowned for its transparency, legitimacy, and networking solutions that ensure cash transactions stay clearly separate from the plant, increasing a cannabis business's validity in the public's eye.
He was named in MG Magazine's November 2018 list of 30 Powerful Cannabis Attorneys You Should Know, which featured cannabis law attorney who are considered litigation pathfinders in the industry.
Attorney Sacks was given a 2018 Cannabis Trial Trailblazers Award by The National Law Journal for his continual efforts to improve and advance Pennsylvania's medical marijuana laws and cannabis industry regulations.
In October 2018, Attorney Sacks was given a 2018 Cannabis Trial Trailblazers Award by The National Law Journal for his continual efforts to improve and advance Pennsylvania's medical marijuana laws and cannabis industry regulations.
On November 1, 2018, Andrew spoke at the Philadelphia Bar Association Medical Marijuana and Hemp Committee Meeting.
On July 26, 2018, he spoke in the Continuing Legal Education seminar to 200+ city attorneys regarding medical marijuana laws and ethical concerns.
He has been chosen to be a guest or lead speaker at numerous seminars for the Marijuana Policy Project (MPP), the Pennsylvania Canna-Business Seminar, and the Pennsylvania Bar Association (PBA).
He personally worked closely with both the Pennsylvania Bar Association and the Philadelphia Bar Association to establish the Medical Marijuana and Hemp Law Committees of both groups.
He has served as the co-chair of the Pennsylvania Bar Association Medical Marijuana and Hemp Law Committee, as appointed by the PBA President Sara Austin.
He has been the co-chair of the Philadelphia Bar Association Business Law Section: Medical Marijuana and Hemp Committee.
He is a Cannabis Law Directory Member, and was a Board of Directors member for the Philadelphia Tri-State Chapter of the Lupus Foundation of America for 6 years.
He lobbied state senators who were involved in drafting the Pennsylvania medical marijuana act to include lupus on the list of conditions for which the drug would be made available as a treatment, as well as to feature a generalized pain provision in the law.
He has begun working with doctors and medical groups to advise them on medical marijuana issues.
He was among the faculty for a continuing legal education (CLE) simulcast on behalf of the Pennsylvania Bar Institute, "Pennsylvania's Proposed Medical Cannabis Act." It was well attended and the subject of keen interest among attorneys hoping to learn the latest information about how the state law might affect their practice and the broader business community in Pennsylvania. Learn more about CLE here.
He was interviewed by The Legal Intelligencer in a piece about the question of whether attorneys in Pennsylvania might avoid working with parties in the cannabis industry. Sacks was also quoted in two other prominent articles from The Legal Intelligencer about the Pennsylvania Bar Association's push to update legislation and the Pennsylvania and Philadelphia bars' opinion on the pot industry.
The National Lupus Organization requested Mr. Sacks' assistance in changing their stance to favor cannabis as a treatment for patients.
He requested of the Philadelphia Bar Association for an advisory opinion concerning whether lawyers can represent any company or person involved in the marijuana industry without violating the Canons of Ethics in Pennsylvania, which led to a rare combined opinion published by both the Philadelphia Bar Association and the Pennsylvania Bar Association.
He was on a panel of experts, specialists, and legal professionals at a series of continuing legal education (CLE) events, during which attorneys from around the state gathered to learn about the marijuana act and ethical issues involved with the area.
He represented a permit winner who can legally grow, produce, and sell medical marijuana in its facilities and dispensaries ILera Healthcare.
He represents MJ Freeway in Pennsylvania, which received the state's multi-million dollar seed-to-sale contract. The Denver-based company is tasked with tracking every medical marijuana seed from its initial processing to when a patient receives it with a prescription. The Department of Health entrusts contract winners with this responsibility, and so it is considered an incredible business honor to receive the contract.
He met with and continually lobbied the Pennsylvania Department of Agriculture until he successfully made them agree to open individual grow-sizes from 5 acres to 100 acres. This effectively increased the land used for medical marijuana growth and research in the state by 20-fold. The Department of Agriculture also agreed to lift the prohibition of the production of CBD extracts from hemp due to his efforts.
He became a lawyer-member of the Pennsylvania Cannabis Coalition (PCC) after it was formed from ATACH following the successful legalization of medical marijuana research and dispensaries in the state.
In 2018, he earned the Committee of the Year award for his work in the Philadelphia Bar Association's Committee of Medical Marijuana and Hemp.
He lobbied to get hemp products to be sold in dispensaries alongside medical marijuana and cannabis products.
He actively lobbies to get electronic banking in Pennsylvania for the industry, which would dramatically increase the efficiency of medical marijuana and cannabis companies. As part of this ongoing campaign, he has been working with the Pennsylvania Department of Banking and Securities.
He is in the process of bringing a modern payroll company to Pennsylvania to better organize how the state handles the payroll of involved industries.
He is also lobbying to make Chapter 20 – Academic Clinical Research Centers into a workable legal chapter that will benefit the medical marijuana industry in the state while also satisfying legislators.
He is striving to find an amicable resolution to the issue of 2nd Amendment gun rights and how medical marijuana card holders can hold onto those rights. In continuation of his efforts, Attorney Sacks is now preparing a lawsuit to be filed against the Attorney General of the United States Jeff Sessions for the ongoing violation of medical marijuana users' 2nd Amendment rights.
He is lobbying The Philadelphia City Council to reduce the distance a dispensary has to be away from a daycare center from 500-feet to 1-foot, allowing dispensaries to be placed in more locations and give more patients access to them. Dispensaries are not smoke shops, like a cigar store, and there should be virtually no detriment for one being adjacent to a daycare center. Click here to read his OPED position in Philly.com.
He regularly takes calls regarding the ever-changing medical marijuana and hemp laws pro bono. Other legal professionals throughout the state turn to him for advice on how to approach medical marijuana issues.
He continues to be quoted on Philly.com due to his insight and knowledgeability. He has also been featured on Twitter's "Now This" tweet feed.
He was able to combine and organize 9 different subcommittees in three different bar associations — Leaders of Philadelphia, Pennsylvania Bar Association on Medical Marijuana and Hemp, and Allegheny Bar Association on Medical Marijuana and Hemp — which cover the state with more than 250 lawyers.
He was re-nominated and reappointed to co-chair both the Philadelphia and the Pennsylvania Bar Committees of Medical Marijuana and Hemp.
He was appointed as the editor and sponsor for both the Cannabis Law Journal and the Cannabis Law Report.
With the passage of the marijuana act, PCC will be the go-to legal source for any and all businesses working in the cannabis industry in Pennsylvania. As the only attorney listed as a member of the former-ATACH and a keynote member of PCC and other associations, Sacks is positioned as a leading legal authority in the field of marijuana law in Pennsylvania, a role he has earned through his ongoing research, lobbying, and advocacy in the field since 2013.