John Weston
Philadelphia Attorney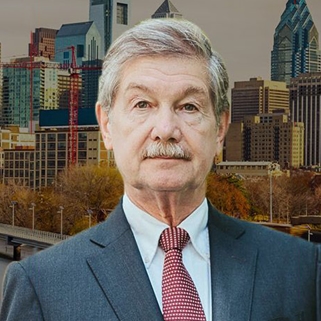 Mr. Weston prides himself on handling the firm's unusual cases. His career has led him through fields as diverse as real estate law and corporate practice, personal injury and civil rights litigation, labor, and municipal law, and employment litigation.
Mr. Weston received a B.A. with distinction and the honors program in history from The Pennsylvania State University in 1974, and his J.D. from the Ohio State University College of Law in 1977.
Previous Experience
For three years he was chief counsel to the Philadelphia Fraternal Order of Police. Now at Sacks Weston LLC, he supervises the Philadelphia firm's litigation, handling the complex litigation, including environmental litigation, commercial law, and appellate practice.
He is admitted to the U.S. Supreme Court and the Pennsylvania Supreme Court, and the U.S. Circuit Courts of Appeal for the First, Second, Third, Fourth, Fifth and Sixth Circuits. To date, he has had five cases before the Supreme Court. These include Grefer v. Alpha Tech., 901 So. 2d 1117 (La.App. 4 Cir. 2005), cert. den. 553 U.S. 1014 (2008).
He is a member of the bar of the U.S. District Court for the Eastern District of Pennsylvania and has been admitted pro hac vice in eight U.S. District Courts in Texas, Mississippi, Kansas, Ohio and New York.
John has advised the North Penn High School mock trial team since 2006. During that time the team has twice won its district championship. He is also licensed to fly single-engine land-based general aviation aircraft, and holds an instrument rating and high performance and complex endorsements.
In recent years, John has focused on representing foreign governments in litigation in the United States. Over the past 20 years, he has represented more than 25 foreign governments in litigation matters throughout the United States.
John in the News
"Novartis Must Face Retaliation Suit Over Kickback Scheme" - Law360
"Pa Judge Greenlights States 1st Opioid Marketing Case" - The Inquirer
"9th Circ. Urged To Reopen Dr. Pepper 'Diet' Label Suit"- Law 360
"UberBlack Drivers Ask 3rd Circ. To Revive Wage Suit" - Law 360
"Medical Marijuana Patient Sues Trump Administration Over Ban On Gun Ownership" - Huffington Post
"A doctor who takes medical marijuana sues for the right to own a gun" - The Inquirer
"Doctor sues to end ban on gun ownership for medical marijuana users" - WPXI News
"Pharma Cos. Sued Over Children Born Addicted To Opioids" - Law 360
"Andrew Sacks of Sacks Weston LLC Files For Matthew Roman, M.D seeking to end the prohibition of gun ownership for state-sanctioned, medical cannabis patients" - Cannabis Law Report
"Philly UberBlack Drivers Press 3rd Circ. For Employee Status" - Law 360
"Diet Coke Causes Weight Gain, Consumers Tell 9th Circ." - Law360
"Novartis Warping Kickback Standard In FCA Case, DOJ Says" - Law360
"Diet Pepsi Drinkers Ask 2nd Circ. To Revive False Ad Suit"- Law360
"UberBlack Drivers Fight For Employee Status At 3rd Circ." - Law360
"Order To Create Taxi Fee System Can't Stand, Pa. Court Says" - Law 360
"UberBlack Drivers In 'On Call' Spat Say They're Employees" - Law 360
" Phila. DA Krasner Files Consumer Protection Suit Over Opioid Crisis" - Max Mitchell
"Philadelphia DA files second lawsuit against opioid makers" - ABC 6 Action News
"Philadelphia Files Suit Against Prescription Opioid Manufacturers" - City of Philadelphia
"Philly DA Accuses Drugmakers Of Deceptive Opioid Marketing" - Law 360
"Pepsi Says False Ad Suit Over 'Diet' Soda Is Preempted" - Law 360
"Phila. Engages Private Firms to Take on Pharma Over Opioid Crisis" - The Legal Intelligencer
"Philly Becomes Latest To Sue Drugmakers For Opioid Crisis" - Law 360
"Philadelphia to sue opioid drugmakers over marketing practices and to recover costs" - The Inquirer
"Progressive to Pay $2.4M in Medicare Secondary Payer Case" - Bloomberg Law
"Diet soda makers sued over deceptive, false and misleading advertising" - Health Nut News
"Progressive To Settle Medicare FCA Suit For $2M" - Law 360
"Two Insurance Companies Agree To Pay More Than $2 Million To Resolve False Claims Act Allegations" - The United States Attorney's Office District of New Jersey
"CALIFORNIA CONSUMER FILES AN ARRAY OF CLASS ACTION LAWSUITS AGAINST DIET COKE, DIET DR.PEPPER AND DIET PEPSI" - Texans for Lawsuit Reform
"Coke, Pepsi Diet Drinks Can Add Weight, False Ad Suits Say" - Law360
"Soft Drink Makers Face Allegations of Fraud Over Diet Sodas" - BigClassAction.com
"Uber Can't Get Partial Win In Drivers' 'On Call' Fight" - Law360
"3rd Circ. Revives Exotic Dancer's Wage Suit" - Law 360
"Class Certified In $5.9M Suit Over BofA MDL Fund Theft" - Law360
"Class Certified Against Claims Admin in BankAmerica MDL" - The Legal Intelligencer
"Philadelphia Uber Black Drivers Sue Over Independent Contractor Status" - BuzzFeed News
"Philly Uber Drivers Claim Wage Violations, Illegal Competition" - Law360
"Brown-Daub leads dealers in false advertising claim against Volkswagen" - The Morning Call
"Local car dealer files lawsuit against Volkswagen" - 69 News WFMZ
"VW, Audi Owners win $15.5M in Attys' Fees in Oil Sludge MDL" - Law360
"Federal judge tells cabbies to try the state if they want refunds" - Philly.com