Firm partner and head of our complex litigation department, John Weston, recently appeared as a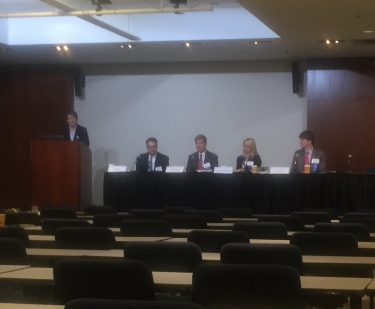 featured speaker at the Pennsylvania Bar Association's seminar on Pennsylvania's Evolving Medical Marijuana Industry. The seminar took place on April 18, 2017 in Philadelphia and was also made available via live webcast by the Philadelphia Bar Institute.
The seminar focused on the latest information regarding implementation of Pennsylvania's Medical Marijuana Act, which establishes the groundwork for the state's evolving medical marijuana industry. Because the legislation impacts all facets of the industry, from growers and producers to dispensaries, health care providers, and investors, businesses require knowledgeable and experienced representation to navigate the regulatory landscape, handle compliance issues, and ultimately succeed.
By sharing his insight with fellow legal professionals, Mr. Weston helps propel the industry further by expanding their access to attorneys who have taken steps to immerse themselves in this unique area of law. Attorneys who attend the seminar earn continuing legal education (CLE) credits, which enables them to receive further professional education and remain active members of the state bar.
Attorney John Weston has dedicated nearly 40 years of his professional career to practicing law, and is continually invited to speak on various areas of law by professional legal organization. At Sacks Weston Diamond LLC, he handles our firm's complex litigation, and oversees matters involving commercial law, environmental litigation, and appellate practice. His wide breadth of experience also plays an important role in the success of our firm's medical marijuana practice, through which we protect the rights and interests of medical cannabis industry clients.
If you have questions about Pennsylvania's Medical Marijuana Act or wish to discuss a potential venue or regulatory issue,
contact us
to schedule an initial consultation